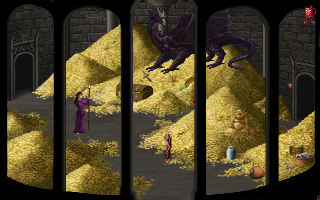 Quest for Yrolg is a game created by Crystal Shard on Jun 16, 2008. It is a parody of the Quest for Glory series (though it doesn't specifically have any direct connection to any of the games). On December 15, 2016, the game was made available on Steam, Itch.io, and Humble Bundle.
The idea is sort of an anti-Quest for Glory, with the villains killing the hero (represented by three separate adventurers based on the three starting classes in QFG)
In the game, the player takes the role of an imp belonging to the necromancer Yrolg. The imp is tasked with preventing three adventurers -- a fighter, a mage, and a rogue -- from stopping the necromancer's plans. The player must lay traps for the adventurers using the imp's limitations -- including an inventory that can only consist of one item at a time.
Credits
[
]
Game Design by: Pieter Simoons
Background Art by: Elissa Ng
Portrait Art by: Vladislav Nachev
Voice Acting by: Francisco Gonzalez, Joel Philip Page, Josh Joseph, James Hamer-Morton, Rebecca C. McCarthy
External Links
[
]