Heroine's Quest: The Herald of Ragnarok is a Quest for Glory inspired game developed and published by Crystal Shard in March 20, 2014 for Windows and Linux, and it was made using the Adventure Game Studio engine. Set in the Northlands of Midgard, this is an adventure/RPG style game with a female protagonist, featuring Frost Giants, trolls, svartalfar and assorted other creatures. This game can be obtained from Steam, Itch.io, and Humble Bundle.
Background
[
]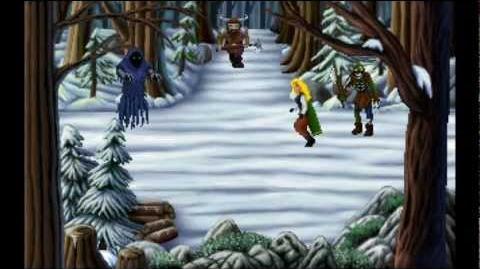 The lands of the North are shrouded in mystery. Isolated from much of the world, this is truly a unique land filled with magic & danger. Many strange northern creatures stalk the lands, ready to tear any wannabe heroes to pieces. Out Heroine, another recent graduate of a semi-well known correspondence school, has traveled to the North in order to prove herself a hero. She will find becoming a hero in such a inhospitable land will not be quite as easy as she envisioned.
Not to be confused with HQ: The Legend of Fair Spring, an earlier version of Heroines's Quest that was scrapped.
Story
[
]
Welcome to the inhospitable Northland, where trolls and wolves stalk the night, and where you are just one thin cloak away from turning into an icicle.
Rumor has it that Jotnar, the frost giants, are on the loose, and that Fenrir the Devourer stirs in his sleep. Gossip says that eldritch Svartalf magic runs wild, and that trade caravans disappear. People curse the incessant cold and eye each other warily, one hand on their trusty axe. And Northlanders are not known for their even temper.
What the land needs is a Heroine, and she had better arrive now. Are you up to the task, or will you die trying?
Credits
[
]
Story and Script by: Pieter Simoons
Lead Artist and Animator by: Corby LaCroix
Art and Animation, Music by: Dmitrii Zavorotny
Art and Animation, Voice Direction by: Elissa Ng
Music by: Matthew Chastney
Additional Art by: Mike Allard, Love Fagerstadt, Ulrike Kleinert, Karen Soroe, Sara Welland
Additional Coding by: Ivan Mogilko, Michael Rittenhouse
Voice Actors by: Nikkita Bradette, Karen Hayman, Ben Wilk, River Kanoff, Anthony Sardinha, Amber Leigh, Dreux Ferrano Jr., Jonathan Michael Cooke, Mikel Dever, Edwyn Tiong, Tim Pedersen (Bulwark), Michael Rogel, Darcy Maguire (Kamuro), Robert S. Benjamin, Mads Lindegaard B. Poulsen, Patrick Walker, Jessica Warner (Tomoyo Ichijouji), Elissa Park, Brittany Williams, Tom Wilson, Rebecca C. McCarthy
Testing by: Selmeci Bela, Václav Sahula
Linguist by: Gunilla Gustafsson
AGS Created by: Chris Jones
Inspired by: Corey Cole, Lori Ann Cole, Robert Engels, Johannes Gehrts, Edvard Hagerup Grieg, Snorri Storlusson, Richard Wagner
Gallery
[
]
External Links
[
]