Spoiler Warning!!!!

This article or section contains information related to Hero-U by

Transolar Games

. This information may not reflect official Quest for Glory universe as originally portrayed in material published by Sierra On-line or

Activision

.
Hero-U  is a game series developed by Lori and Corey Cole.
Overview
After two successful Kickstarter campaigns and over five years of development, we are proud to present Hero-U: Rogue to Redemption. Created by the critically acclaimed game developers Lori Ann Cole and Corey Cole (Quest for Glory, Shannara, Castle of Dr. Brain, Mixed-Up Fairy Tales), the Hero-U series follows the role-playing adventures of top students at the Hero University.
In Rogue to Redemption, Shawn O'Conner strives to become Rogue of the Year while exploring a mysterious castle, making friends and enemies, fighting deadly foes, and uncovering the secrets of his own hidden past. Meanwhile players will enjoy the rich and humorous dialogue and descriptions as they guide Shawn through his adventures.
In the tradition we created in Quest for Glory and in Shannara, Hero-U is a hybrid adventure/role-playing game. During the day, Shawn attends classes at the University, practices his skills, and tries to make friends with other students. At night, it's time to pull out weapons, armor, and traps to explore the abandoned wine cellars, stunning sea caves, creepy catacombs, and deadly dungeon beneath Hero-U. Most combat is optional for those who prefer a pure adventure game, but there are ample rewards for those who choose to valorously fight the creatures that threaten the school and all of Sardonia.
Relationship to Quest For Glory
Following the Convergence of timelines, the history of the Hero is actually complicated, it's both the story of a single independent Heroes (Devon Aidendale (Hero-U) and others based on each Player's stories), but also the the story of the Four Heroes, four different siblings (descended from the King of Silmaria) who all helped each other to save lands around the world. Hawk the Warrior is the one who married Elsa. Falcon, his twin and a Paladin, married Erana. Owl the Wizard eventually marries Katrina. Wren, the Rogue, who disguises herself as a boy, never does marry Nawar, although they have a flirtation.[1]
Hawk became the Marete King, and Elsa von Spielburg became the Queen of Silmaria. In this version of the world of Gloriana (Hero-U), Erana and Katrina were both raised from Hades by the Hero. Each of the three women now lives a happy, married life. Famous Adventurer expanded his school to become more than just a correspondence school.[2] However, in the single hero versions of the story, other heroes might have become the King or chosen to turn it down. They may or may not have married Elsa, and chosen to marry one of the other women instead.
Famous Adventurer returns to Marete to move the Famous Adventurer's Correspondence School to a new building on the outskirts of Silmaria, overlooking the sea. Which he expands to become the Famous Adventurer's School For Heroes. This venture proved successful, that in time it was transformed into the Hero's University. Until it was burned down.
Needing more space and to gain more autonomy from the Silmarian government Hero University moved into Castle Luminar in Sardonia near the lovely city of Caligahri. Where it resides now.
Games
Technical
Gameplay
Hero-U is a role-playing adventure game. The player takes on the role of a student learning to be a Hero. In Hero-U: Rogue to Redemption, that student is Shawn O'Conner, a young man who at first seems to be anything but a hero.
One doesn't just wander around an ancient, possibly haunted, castle and expect to have an easy time of it. Shawn must learn and practice Rogue and combat skills, then use them to survive. "Hack and Slash" won't cut it for a Rogue. Shawn must outwit and outmaneuver the creatures that lurk within the ancient dungeons, caverns, and catacombs.
Hero-U is not a random "dungeon crawl". In Rogue to Redemption, Shawn will learn what it means to be a Hero and the player must choose for him whether he will become one. The player's choices will determine not only Shawn's fate, but that of the University and possibly all of the world. Whatever.
Behind the scenes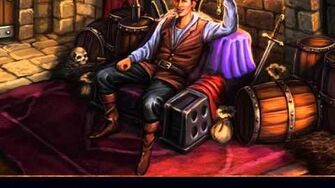 The game was formerly to be known as School For Heroes. It was to be more of an RPG than an adventure game. There release game is more of a mix between RPG and Adventure aspects.
The classes in the planned pentalogy will be released as one per game (rogue, wizard, warrior, paladin) for the first four games with the final game hopefully allowing to play all four characters (or will include one of the three additional classes of Bard, Scientist, or Chef). Each class will have a different story arc and conversation choices, etc., but they will all revolve around the Hero-U.[3] It will contain a few similarities as far as setting and characters with Quest for Glory but it will not be set in the same world as the previous games.[4]
The developers had original said that the game would take place in the same Gloriana as previous games, but some two decades or so after QFG5.
But later; "In order to avoid any confusion with our previous game series, Hero University has moved to the city of Caligari on the island of Sardonia. We are also making sure that all names in Hero-U are original." This may be to avoid any potential legal issues with Activision.
http://www.hero-u.net/leaders/name-game/
Some of the follow ups by the Coles refer to the world as the world of Hero University. They still state it takes place in the same universe as the QFG games they just avoided anything that might make Activision potentially come after them. It uses some of the original characters from the previous School for Heroes website (but no characters that appeared in QFG) but it is suggested they moved to Sardonia after he previous school was closed-down. Note: certain details from School For Heros are different than in QFG (for example Convergence concept and the 'four heroes' saving Serenia instead of four parallel universes ) it's not quite the same universe as the original games themselves. Despite being a verson of 'Gloriana' (or "Glorianna" as some School For Heroes content called it), the game is still not officially part of the Quest for Glory unvierse.[5]
Series
External Links
References